The Essential Elias Hicks
by Paul Buckley
"I hope thy patience will so hold out as not to think the time too long, as it respects my absence from thee, as no doubt, the Lord's time is always the best time, and to know this is my principle care. And I feel abundantly thankful that thus far I have got along in the clearness, which produces sweet peace of mind – a blessing not to be equaled by any temporal blessing."

Elias Hicks, unpublished letter
to Jemima Hicks, December 9, 1817.
In 1828, Elias Hicks was the best-known Quaker in the United States. He was a deep and original religious thinker, a commanding and compelling preacher, and though eighty years old, still a faithful traveling minister. Whenever God said, "Go!" he went.
If he is remembered at all today, it is for his role in the most traumatic events in the history of the Religious Society of Friends – a series of separations that split American Quakers into two hostile camps – one of which came to be called Hicksite.
Over the years, his memory has been lost to stories told by his friends and his opponents. Much of what people believe about him is false. The truth is, Elias Hicks was a minister, a mystic, a farmer, an environmentalist, an abolitionist, a father and a husband. This book aims to reveal the real Elias Hicks and his understanding of what it means to be a Quaker.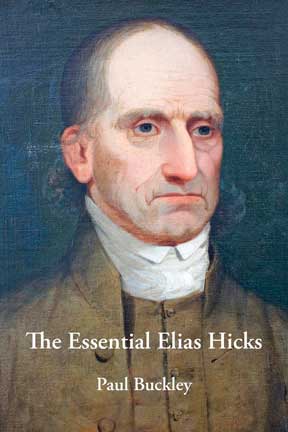 Elias Hicks has much to say to Friends today.
About the author
Paul Buckley is a Quaker historian and theologian, well-known among Friends of all stripes for his workshops, short courses, and retreats. He has written books on William Penn, Elias Hicks, and the Lord's Prayer; and co-edited The Quaker Bible Reader
Now available:

159 pp.: Hardcover, ISBN 978-0-9834980-8-7, $25
159 pp.: Paperback, ISBN 978-0-9834980-9-4, $15

Copyright © Paul Buckley, 2013
Return to
Inner Light Books home page
For more information contact
editor@innerlightbooks.com
.