A Quaker Prayer Life
by David Johnson
Return within everyone in particular; examine your hearts, and mind the Light in your conscience, and it will always let you see where your hearts are, and what they delight in, for it is the heart the Lord requires; ... there is your teacher within you, the light of your consciences; loving it, and obeying it, is your life; hating it and disobeying it, is your condemnation:
-William Dewsbury
I am pleased to announce the release of the eighth publication from Inner Light Books, A Quaker Prayer Life, by David Johnson. David Johnson asks, "How did early Quakers pray?" and draws on early Quaker and other writings to answer this question.
A Quaker prayer life arises from a life of continuing daily attentiveness. The first generation of Quakers followed a covenant with God, based on assidious obedience to the promptings of the Inward Light. This process did not require the established churches, priests or liturgies. Quaker prayer then became a practice of patient waiting in silence.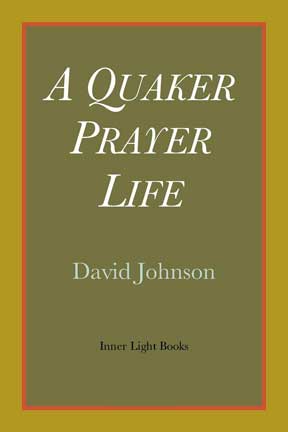 Prayer is a conscious choice to seek God, in whatever form that Divine Presence speaks to each of us, moment to moment. The difficulties we experience in inward prayer are preparation for our outward lives. Each time we return to the centre in prayer we are modeling how to live our lives; each time we dismiss the internal intrusions we are strengthening that of God within us and denying the role of the Self; every time we turn to prayer and to God we are seeking an increase in the measure of Light in our lives.

About the author
David Johnson is a Member of Queensland Regional Meeting of the Australia Yearly Meeting of the Religious Society of Friends. He has a long commitment to nonviolence and opposing war and the arms trade, and has worked with the International Campaign to Ban Landmines. David delivered the 2005 Backhouse Lecture to Australia Yearly Meeting on Peace is a Struggle. He was part of the work to establish the Silver Wattle Quaker Centre in Australia in 2010, and is Co-Director of the Centre for 2013-14.
Now available:
82 pp. ISBN 978-0-9834980-5-6, (hardcover), $20.00
82 pp. ISBN 978-0-9834980-6-3, (paperback), $12.50

Now available as an ebook: ISBN 978-0-9834980-7-0, (eBook), $10.00
Purchase ebook now - choose EPUB or Kindle format:
Copyright © David Johnson, 2013
Return to
Inner Light Books home page
For more information contact
editor@innerlightbooks.com
.