Surrendering into Silence
Quaker Prayer Cycles
by David Johnson
Quaker spirituality is at its core a contemplative practice which is based on the path taught and lived by Jesus. The traditional Quaker experience is that the Spirit of God communicates directly to each and every person, especially when we spend time in silence, and is experienced mainly as an Inward Light in the conscience. Further, as this Inward Light is followed, we are granted more light and greater purity of heart or holiness, and we become reborn inwardly as the Spirit of God (Christ) takes hold of our lives.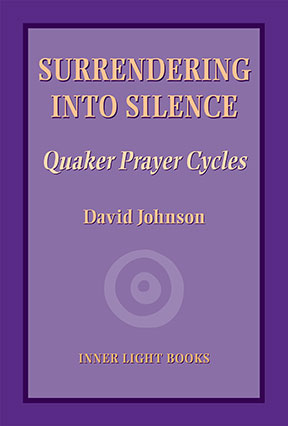 Many of the quotations in this work are deliberately sourced from the first Quakers, whose remarkable spiritual strength opened up a vision of true Christianity and changed the world around them. The language of the 1600s sounds foreign to our ears until it becomes familiar. Many words have had different meanings over the centuries, as is clear in the different wordings of the King James Version and Revised Standard Version translations of the Bible. Readers are urged to sit and feel for the underlying spiritual message of these written experiences of our Quaker ministers and elders as well as of the selected excerpts from the Scriptures.
The Quaker experience and understanding are that God is always ready to guide and lead us and goes before us, though we may be called upon to wait till we have been inwardly prepared. 'Way will open' in God's time rather than in our own time frame.

About the author
David Johnson is a member of Queensland Regional Meeting of the Australia Yearly Meeting of the Religious Society of Friends. He has a long commitment to nonviolence and opposing war and the arms trade and has worked with the International Campaign to Ban Landmines. David delivered the 2005 Backhouse Lecture, entitled "Peace Is a Struggle," to Australia Yearly Meeting. He is also the author of the Inner Light Books titles A Quaker Prayer Life and Jesus, Christ and Servant of God as well as the Pendle Hill pamphlet The Workings of the Spirit of God Within. He helped establish the Silver Wattle Quaker Centre in Australia in 2010 and was codirector of the centre from 2013 to 2014.
Now available:
73 pp.: Hardcover, ISBN 978–1-7346300–0-8 , $21.
73 pp.: Paperback, ISBN 978–1-7346300–1-5, $15.
Now available as an ebook: ISBN 978–1-7346300–2-2, (eBook), $10.
Purchase ebook now - choose EPUB or Kindle format:
Copyright © David Johnson, 2020
Return to
Inner Light Books home page
For more information contact
editor@innerlightbooks.com
.